I haven't been keeping your guy well-dressed lately, and for that I truly apologize! Here is a great pair at a fabulous price that you can take him out in and be proud!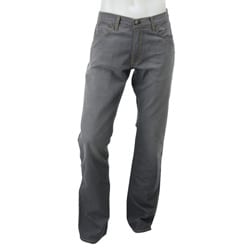 Agave Denim Men's Classic Straight-leg Jeans
Retail: $145
Price: $42.99
Discount: 70%
There were a couple more pairs of Agave Denim for Men at Overstock, but since most guys don't own a pair of gray jeans (but really should!), these were the ones that truly caught my eye.
I've never tried Agave Denim (I have seen them at the popular boutique Delish Demure, right by my work down at the Denver Tech Center… though they only carry the women's line), but I've heard strong recommendations from some very trustworthy women.
Let me know if you grab a pair (there were some great pairs of PD&C that I may snag for C., too!), and dress him well!
Love,
JP
Disclaimer: Links included in thispost are for affiliates of DenimDebutante.com. If you choose to shopthrough my links, these companies will pay me a commission. Thanks forfeeding me and keeping this site running!